When I first saw the Givenchy Fall 2010 Couture collection on style.com, my first thought was "Wow, these pieces are extremely gorgeous!", now, if only there were close-up detail shots of the garments. Just by looking at the front & back views of the full body shots, I could already imagine the intricate details each individual piece would have. As luck would have it, Bryanboy posted some really amazing close-ups pics of the Givenchy pieces which had me wow-ing all over again upon seeing them.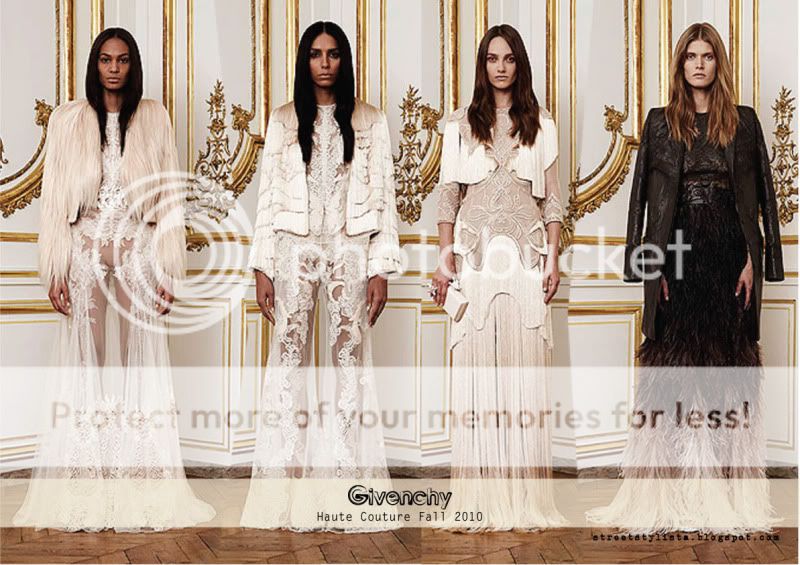 Lace, Tulle, Feathers, Beading, Crystals, Sequins, Fringe, Leather.
The equally amazing back views.
Not sure how most of you feel about couture shows but haute couture is extremely exciting to me. Yes, I can't afford couture anything, but I never fail to be in awe of the intricate details and amazing amount of effort put into producing each precious piece of art. I obviously have never been to a couture show before, the closest thing I came to was when I saw a Spring 2009 piece of Christian Lacroix couture (complete with accessories & shoes) upclose at the AFF last year. Brilliantly amazing, definitely a wow moment. I distinctly remember how they had an entire Lacroix team there to dress the model in that one outfit for the AFF preview. That is how precious (and expensive of course) each piece of couture is. It's saddening to hear couture houses closing due to the diminishing returns (Christian Lacroix being one of them), but I do hope couture don't die out anytime soon because then, fashion would be much less exciting. It's always great to have something to be awe-inspired by don't you think?